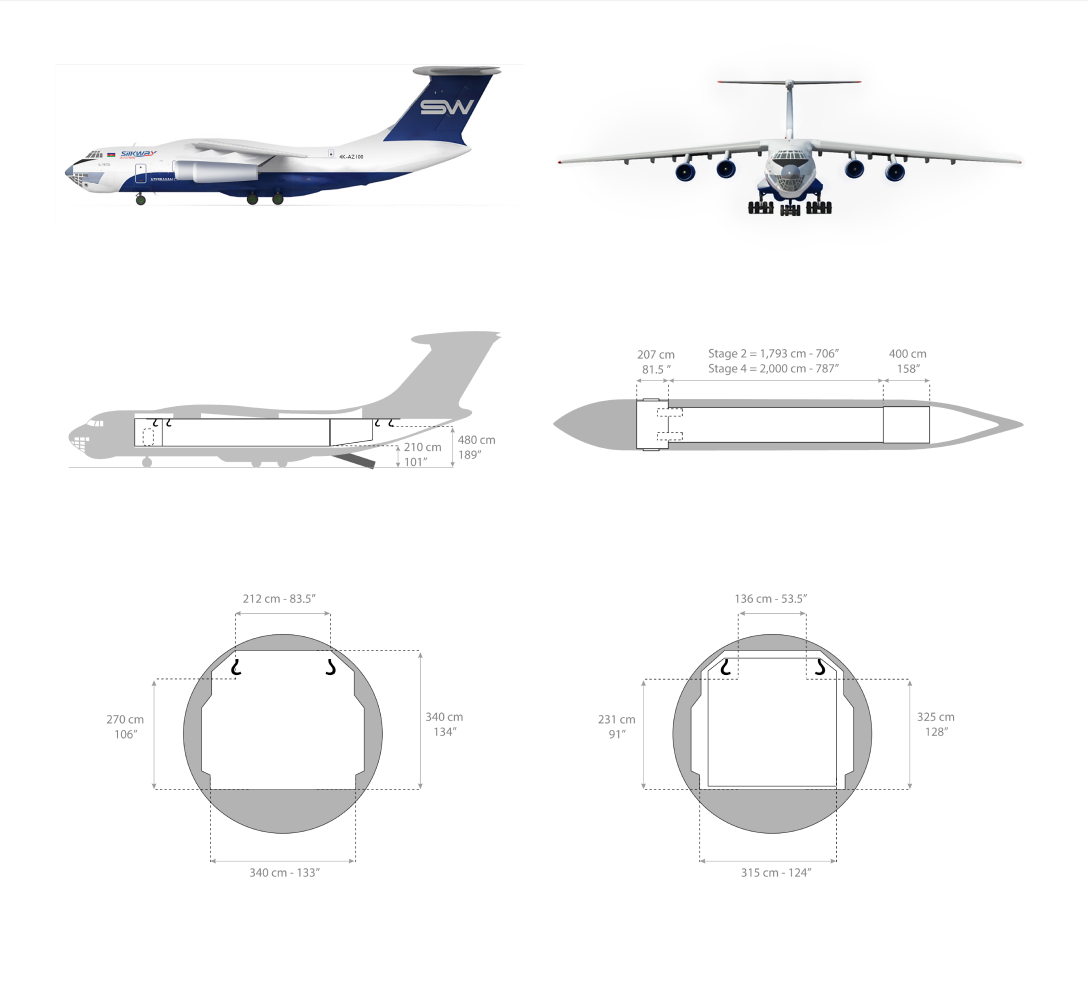 Il-76TD aircraft is the evolution of the transport modification of the Il-76T aircraft.
The transportation efficiency of the aircraft has been improved, in comparison with Il-76T, by way of increasing maximum takeoff weight from 170 to 190 tons, maximum commercial load from 43.4 to 50 tons, and practical flying range with increased maximum load. Due to increased maximum takeoff weight and commercial load, and in order to improve operating life figures, the structures in the wing, fuselage and landing gear have been reinforced.
The aircraft is equipped with D-30KP series 2 engines ensuring maintenance of maximum takeoff thrust at higher temperatures of ambient air.
Implementation of methodologies developed by the State Research Institute of Civil Aviation and Design Engineering Bureau of Takeoff Methodsallow Il-76TD to operate from the same airstrips as the Il-76T, but with the increased takeoff weight, and its improved fuel efficiency ensures larger cargo transportation volumes, while consuming the same amount of fuel.
Il-76TD ensures transportation of a wide variety of cargoes in all kinds of conditions. Technical capabilities of the aircraft allow its operation in extreme conditions of the Antarctic, where it has been used successfully as the main transportation aircraft for many years already.
Maximum takeoff weight

190 Ton's

Maximum flight altitude

12100 M

Top thrust (SI System, H=0)

4x12000 KGF
Dimensional characteristics
Length

46,6

Height, m

14,76

Wingspan, m

50,5

Wing area, sq. m

300

Fuselage diameter, m

4,8
Power plant parameters
Number x engine type

4 x turbojet engine

Engine

D-30KP series 2

Top thrust (SI system, H=0), kgf

12 000
Weight parameters
Maximum takeoff weight, tons

190

Maximum payload, tons

50

Fuel tank capacity, l

109 500
Aircraft performance
Cruising speed, km/h

750 - 780

Flight altitude, m

9 100–12 100

Flight range with payload of 40 tons, km

4 900

Takeoff distance, m

1 700

Landing distance, m

930
Freight compartment parameters (upper deck)
Length x Width x Height, m

24,54x3,45x3,4

Volume, cubic meters

321